An interesting week thus far. Monday night I handed out our party invitations at bell practice so hopefully a few of them can come this year. We play for the first time on Sunday. At 11. When no one will be there because the Packer game is at noon. Excellent. We regained a member at the last practice. Julie, who had been out since the end of the 2006 season due to medical reasons, has come back. As long as she remains in good health, she plans to continue to ring. This is a good thing. She took back her spot next to me so I no longer bounce between positions. Nancy can take the big C and D and we have all the bells covered.
Tuesday morning was the IMA breakfast meeting. We had 15 people and a mountain of food from Festival. The speaker was perky for it being 7:30 in the morning. She spoke about
New North
, a multi-county economic collaboration in northeastern Wisconsin. I got ambushed by the nomination committee to be VP of Administration next year (hence, president the following year.) I wasn't really expecting that. I turned them down, but offered to be VP of Membership since I do pretty much everything under that office anyway. I get the feeling this isn't the last I'll hear of this. I have no desire to take on the president role. Ever. But we'll see how things play out. I guess it might look good on my resume. *sigh*
We went to see the
Capitol Steps
last night at the PAC. We went out to dinner at Good Company. It had been awhile since we'd been there. Our waitress was kind of flaky and I had forgotten how spicy their onion petals were. Other than that it was a good time. We stopped at Intermezzo, a tiki-themed bar in the Paper Valley Hotel, for a drink before the show. We had box seats again for this performance, on the second level, right side. I have a feeling I've either seen this group before or heard them somewhere. The backwards talk (kind of like deliberate spoonerisms) seemed familiar. In any case, lots of smart political satire.
The rest of the week is pretty empty. Month-end starts again on Friday. Office trick-or-treating is that afternoon. I believe Neenah's trick-or-treating is that evening. I hope to be able to take a drive down to a Marshall's or two on Saturday. It's been a bit since my last trip although Adam's gone solo a few times. Sunday is bells and football.
Next week is, of course, the election. Hallelujah! I don't plan to vote early, but will head to my polling place on Tuesday morning (Adam already voted.) Hopefully it won't take a ridiculous amount of time. We also have our annual enrollment informational meeting next Wednesday. I can't wait to see how much insurance will be increasing. Ha. Our assumption is we'll continue to enroll as singles on our separate plans for the coming year.
Looking ahead there's not a lot of exciting things going on here. We have our Very Important Meeting With the Lawyer on the 13th, after which we can both die in peace knowing we've signed our paperwork. :) Potential jury duty, Thanksgiving (which has yet to be worked out on the Paalman side – they don't really plan ahead.) Our next PAC program isn't until the end of December. I have some vacation I need to burn, but really no good time to do it. Same old stuff.
And now, a montage of how the cats insist on ruining many of the pictures I take of them...
by not looking at the camera: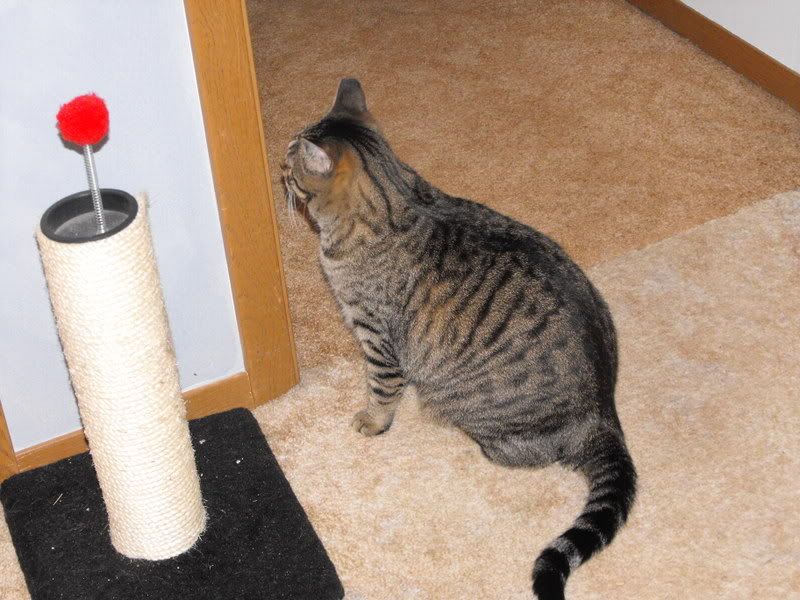 Or by doing something...inappropriate: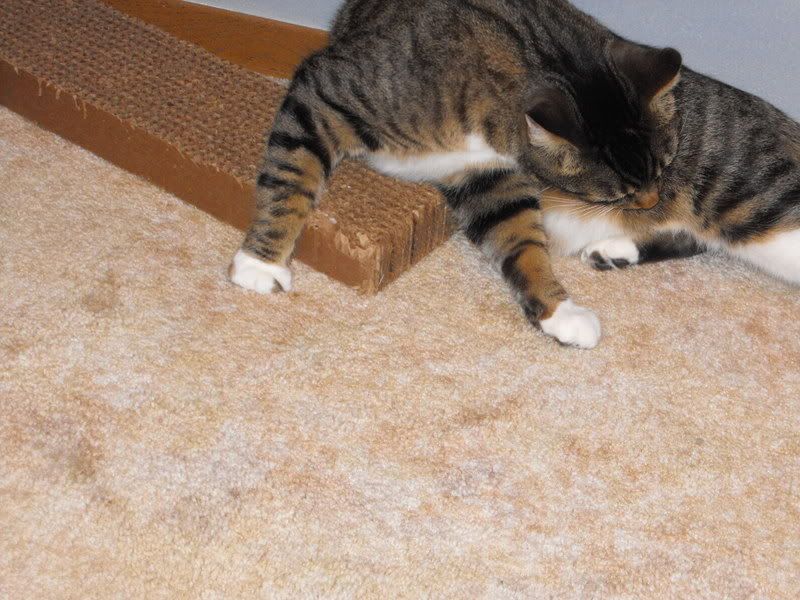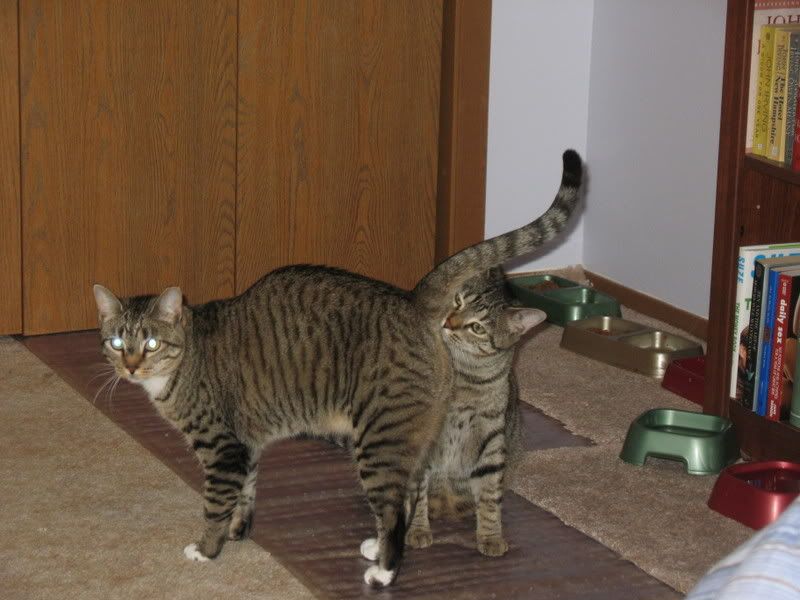 Or by walking out of frame as the flash goes off:
Gah!